Jeff Dork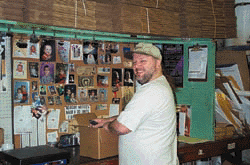 Shipping and Receiving Manager
I started at Advanced in 1991. Since then, I've shipped orders EVERYWHERE!! I manage two warehouses and if the computer doesn't know where something is, I do. That's why they call me the "warehouse god".
I like to spend time with my family, my wife of 14 years and my 3 children. My wife and I recently enrolled in a yoga class for stress relief. I've also seen way too many movies. However, my passion is music. Jim Beebe calls me "music man". One day Jim brought in a cd for me to listen to and when I told him my cd player in the warehouse was broken, he said he was surprised that I even came in that day!
I have been playing bass guitar since I was 12 and still play daily. I am playing with a band known as "The Pocket" (www.pocket-online.com).
Over the years, I have had many jobs. Working at Advanced is my favorite by far. My co-workers are the greatest. Don't take my word for it, find out for yourself!