David DeWitt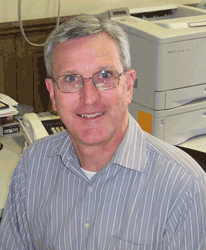 Sales Representative
davidd@advancedmarketingpartners.com
Serving the customer...it can be fun and rewarding. Going into a new or existing customer and learning about the challenges that they face, then assisting them to address those challenges in a creative and cost-saving manner is a satisfying experience.
The term Givers-Gain is an apt description of the approach that is rewarding for both our customers and me. A business has many needs that must be met. Most involve a document of some sort. It could be an internet email or an email attachment; a form with bar codes or peel-off label; letterhead that must reflect their business process and style; marketing pieces that must reach the core-interest of their client; a self-printed item that requires a laser cartridge that is both top quality and inexpensive; the list goes on and on.
We Give them the correct documents….and they Gain!
Joining forces with such an outstanding company as Advanced Marketing Partners (AMP) allows the customers we bring with us to experience a new, higher level of service and functionality. The ACE customers we served over 45 years received outstanding attention. But there are levels we strived to reach that we only could attain with cooperation. That cooperation is evident with AMP.
I served our customers as ACE Computer Essentials (and formerly ACE Tel-A-Tape) since 1984. Prior to that time I served the commerce community as a business lobbyist representing corporate interests to our local, state and federal government. I think those skills transferred quite well in representing your business interests to your clients through forms and business printing supplies.
We are excited to have our ACE customers be part of the AMP family. Yes, you can be future-sophisticated and have a friendly corporate culture. Join us to successfully meet the challenges of the new world!
P.S. Thanks to my wife, Susan, and our three wonderful grown-children for their support and family fun.